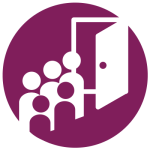 2. Recruitment
Targeted, relevant, written and verbal invitations to join research
"Recruitment" is the time when specific information about one or more clinical trials is shared, with the intent of inviting an individual to a research study as a research participant
The focus is on developing relationships with study population, sharing accurate information, and laying the foundation for a positive research experience.
All recruitment materials and scripts should go through usability testing with members of the intended audience.
Click through the individual tabs below to learn more about how your "Recruitment" research communications can be improved through plain language, numeracy, clear design and cultural considerations.