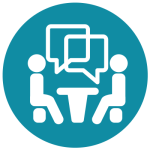 3. Consent
Clear written information and verbal conversations about informed consent to research participation
"Consent" is the time when members of the research team have in-depth conversations with the potential participant to explain more about the study, the risks and potential benefits, and the research procedures.
During "Consent," details about a specific clinical trial are shared, with the intent of providing enough information to allow a potential participant to be able to decide whether joining the study is the right choice for them.
The researcher should leave enough time to answer all questions and determine whether the potential participant understands the nature of the research study.
IRBs and sponsors play an important role in creating understandable consent materials. Boilerplates, templates and required language also benefit from health literacy interventions
"Consent" is considered a process, not just a one-time event.
The signed consent form represents the documentation of the consent process.
For research studies that take place over weeks, months, and even years, consent should be considered an ongoing process, and may include regular check-ins to re-affirm the participant's willingness to continue in the study.

To that end, important updates that could impact a person's decision to continue in a study should be provided in a timely manner and in a clear and transparent way.
During "Consent," study procedures and the overall schedule are to be reviewed in detail. This is an ideal time for research study team members to ask, and listen carefully to learn, about any potential obstacles that could prevent the participant from successfully completing the study.  They can then work together to come up with potential solutions.
Consent forms and related consent discussion scripts should go through usability testing with members of the intended audience.
Guidance on how to develop health literate consent forms can be found here.
Click through the individual tabs to learn more about how your "Consent" research communications can be improved through plain language, numeracy, clear design and cultural considerations