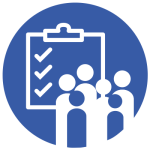 5. End of Study
Plain language summaries, results reports and publication of research findings.
At "End of Study," all procedures and active follow-up visits are finished for the participant.  Using health literate communications at the end of a study reinforces trust in the research establishment and demonstrates transparency and respect.  End of study activities apply whenever a participant completes the study, decides to withdraw or is taken off for some other reason.
At "End of Study," the focus of the clinical research team is on ensuring:

data collection is complete
participants end their time in the study in a respectful and orderly manner.
The research study team should plan ahead.  Consider what and how to share end of study information with participants early in study development.
This is a time to express gratitude for the participant's time and commitment, as well as provide any end of study information that might be interesting and/or useful such as details related to continued access to the study medication, if applicable.
At "End of Study," the study team should be prepared to share with participants, as applicable, information such as:

their own individual study results, if possible to be shared,
a study status update,
an aggregate summary of the overall study results once it is possible to do so.

The clinical research team should disseminate the study results to individual participants and all the communities involved.
Clinical research participants are interested in sharing their feedback and opinions regarding their study participation. The 'end of study' is a great opportunity for the clinical research team to understand the participants' experiences being in the study. This feedback can be considered in the context of the current trial and any updates that may be reasonable to make for participants moving forward, and when designing new studies in the future.
Any materials and scripts used at the end of the study should go through usability testing with members of the population of interest.
Click through the individual tabs to learn more about how your "On Study" research communications can be improved through plain language, numeracy, clear design and cultural considerations.