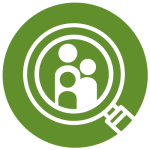 1. Discovery
Public awareness of, education about, and access to clinical research
"Discovery" is the time when members of the intended audience learn about research for the first time.  Here is an opportunity to build trust in the research establishment and demonstrate transparency in research.
At the "Discovery" stage of the clinical trial life cycle, general information about clinical trials or a larger research program may be shared for informational purposes and/or to lay a foundation for future study-specific recruitment.
The focus at this point is on general education and on developing relationships that lay the foundation for a person's future research interest and study participation.
In addition, "Discovery" can be two-sided: this is an ideal time for research stakeholders to gather information from the potential study population to better support a research idea, define research outcomes that potential participants agree are important, and gauge interest in the research study.

Ideally, many of these activities would occur prior to finalizing a study protocol

Any materials and scripts used to introduce research concepts should ideally be subject to usability testing with the population of interest.
Click through the individual tabs below to learn more about how your "Discovery" research communications can be improved through plain language, numeracy, clear design and cultural considerations.