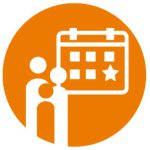 4. On Study
Clear information about ongoing research procedures, data collection and reporting
"On Study" is the time when the participant is enrolled into the specific research study and undergoes the research procedures outlined in the protocol.
At this point the focus of the research team is on quality data collection, compliance with the research procedures and retention of enrolled participants.
Ongoing clear communications about expectations and logistics are important.
It is advised that any materials and scripts used during the ongoing study should go through usability testing with members of the intended audience.
Through a process of ongoing engagement and active listening, researchers should periodically confirm participants understanding of the research and willingness to continue as the study proceeds
Click through the individual tabs to learn more about how your "On Study" research communications can be improved through plain language, numeracy, clear design and cultural considerations.