Return of Individual Research Results Project-Specific Website
The guidance, recommendations, and tools on this website can further enable researchers to return individual research results (IRR) to participants.
Return of Individual Results
The practice of returning individual research results (IRR) has been identified consistently by research participants as desired and, often, expected. Returning individual research results can benefit individuals, communities, and the research enterprise by increasing trust and transparency in research, and by adding value to research participation.

The MRCT Center first convened a workgroup in 2015 to address the absence of standard guidelines and criteria related to returning IRR. SACHRP provided initial guidance for return of individual research results in 2016, and the MRCT Center released recommendations in guidance and toolkit documents in 2017.
As the field and thinking on this topic evolved, a need remained: while there was consensus on the importance of returning individual research results, adoption of the practice was lagging. To respond to this need, the MRCT Center convened a taskforce to further detail the challenges associated with returning IRR and create guidance to specifically address and move beyond those challenges. These updated resources were released in 2022.
We encourage the research community to contact us with suggestions on areas to further expand or improve.
Click Here to Access Project-Specific Website >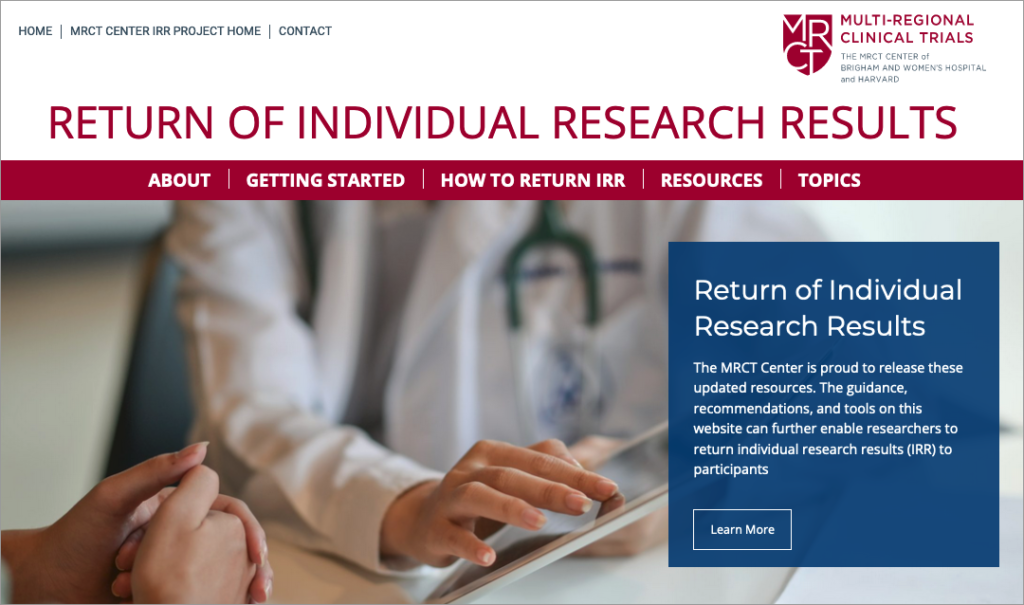 ---
Objectives
Identify both the opportunities and common barriers encountered throughout the process of returning individual research results
Provide guidance and resources to help organizations return individual research results in a respectful and compliant manner
Promote the value of organizations to prepare for and prioritize returning individual research results
Key Milestones
April 2023: Release of Return of Individual Results Case Studies
March 2022: Launch of Return of Individual Results (IRR) website
January 2021: Initiated Return of Individual Results Project Update/Revision Taskforce
December 2017: Return of Individual Results to Participants Recommendations Document Version 1.2 and Return of Individual Results to Participants Toolkit Version 1.2 released and "Return of Individual Results to Participants: Principles" Nov 2017 version released; results from Task Force on Communication of Research Results survey were presented at MRCT Center Annual Meeting.
June 2017: "Return of Individual Results to Participants: Principles" Version 2.1 released
February 2017: "Return of Individual Results to Participants: Principles" released
January 2017: Genomics Sub-Group launched to expand on genetic/genomic sections of Individual Return of Results Guidance Document and Use-Case Sub-Group launched to develop simulations to test the workgroup output in real life situations
December 2016: Draft Recommendations Document, Toolkit and Principles presented at MRCT Center Annual Meeting
April 2016: Task Force on Communication of Research Results launched to (1) understand current practices in communication of research results to clinical trial participants and (2) develop recommendations to guide communication processes between clinical investigators, primary care physicians, and study participants
December 2015: Launched Return of Individual Results Working Group
Project leadership & Staff
Original project (2015-2017) was co-chaired by:
Barbara E. Bierer, MD. Faculty Director, MRCT Center
Debra Mathews, PhD, MA. Assistant Director for Science Programs, Johns Hopkins
David Pulford, PhD. Genetics Therapy Area Head, GSK
Sandra Prucka, MS. Clinical Innovations, Eli Lilly and Company
Carmen Aldinger, PhD. Project Manager, MRCT Center
Taskforce for the project update (2020-current):
Barbara E. Bierer, Faculty Director, MRCT Center
Sylvia Baedorf Kassis, Program Manager, MRCT Center
Linda Coleman, Director of Human Research Protection Program, Yale University
Anna Kang Liu, Director, Pre-Approval Access and Bioethics, Genentech
David Leventhal, Senior Director, Clinical Trial Experience, Pfizer
Megan McBride, Associate Director, Janssen Clinical Innovation
Nancy Levitan Poorvu, Patient Advocate
Sandra Prucka, Director of Genetic Counseling for Clinical Services, Asst. Professor of Clinical Medical and Molecular Genetics, Indiana University
Kate Robins, Patient Advocate
Jessica Scott, Head of R&D Patient Engagement, Takeda
Jamie Tyrone, Patient Advocate
Carol Weil, Program Director for Ethical and Regulatory Affairs, National Cancer Institute
Sarah White, Executive Director, MRCT Center
Sylvia Baedorf Kassis, Program Director, MRCT Center
Project Resources