May 4, 2023
The Accessibility by Design (AbD) in Clinical Research Toolkit is now available here. The AbD toolkit was developed with people with disabilities, caregivers, allies, disability rights advocates, and stakeholders in clinical research.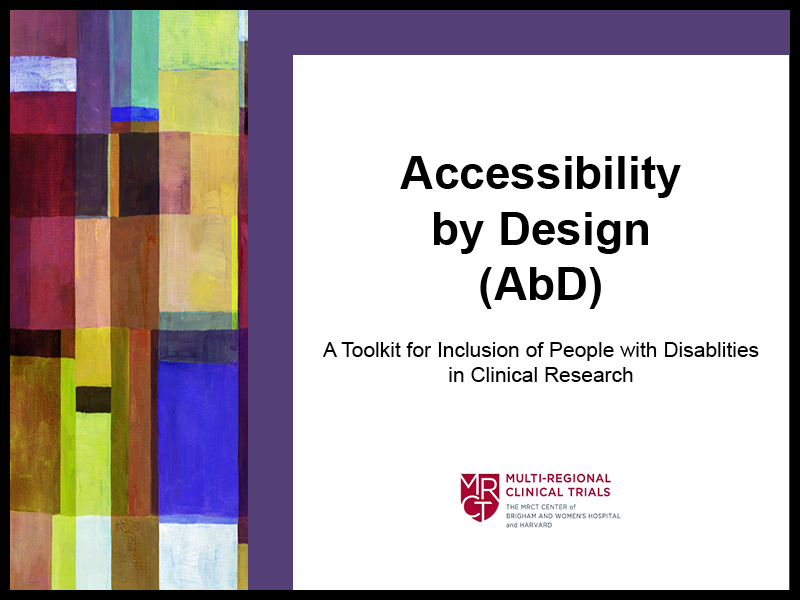 On May 4th, the MRCT Center held a webinar in which Dr. Willyanne DeCormier Plosky presented the background, structure, and key themes of the AbD Toolkit. Invited speaker Cecile González-Cerimele shared lessons learned as a family caregiver during clinical trials, a leader in the planning and conducting of clinical research, and a member of the EnAble employee resource group at Eli Lilly. Duke Morrow could not attend but shared, via moderator Dr. Barbara Bierer, his lived experience as a person with a disability, trial participant, and [community] IRB member. "Any researcher must put aside any knowledge they have learned academically and accept the lived experience of the participants."
The MRCT Center welcomes your feedback on the AbD Toolkit. Please send suggestions, additional tools and resources, and concerns to mrct@bwh.harvard.edu. We look forward to continuing to work together with people with disabilities, their allies, study teams, sites, and sponsors to further the inclusion of people with disabilities in clinical research.