About
The Accessibility by Design (AbD) in Clinical Research Toolkit is a comprehensive resource intended to be used by sponsors, institutions, investigators, ethics committees/IRBs, participants, and patient advocacy groups to support greater inclusion of people with disabilities in clinical research. It was developed by the MRCT Center in collaboration with people with disabilities, family caregivers, allies, disability rights advocates, and stakeholders working in clinical research, and aligns with the MRCT Center's Achieving Diversity, Inclusion, and Equity in Clinical Research Guidance Document and the Equity by Design in Clinical Research Metrics Framework.
Structure
The AbD Toolkit encompasses key points and tools that are divided into five themes:
→ A. Planning for AbD: General Considerations,
→ B. Implementing AbD: Communication Accessibility,
→ C. Implementing AbD: Physical Accessibility,
→ D. Innovating AbD: Newer Strategies for Inclusion,
→ E. Upholding AbD: Accountability and Advocacy.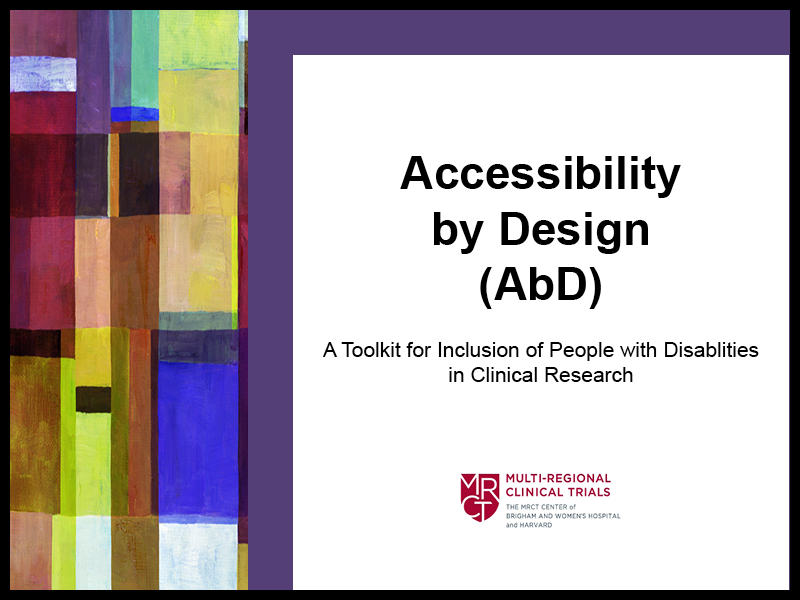 Please note: The Accessibility by Design in Clinical Research Toolkit is a living document and will be improved with use. We welcome feedback, suggestions, additional tools and resources, and concerns.
Please email: mrct@bwh.harvard.edu