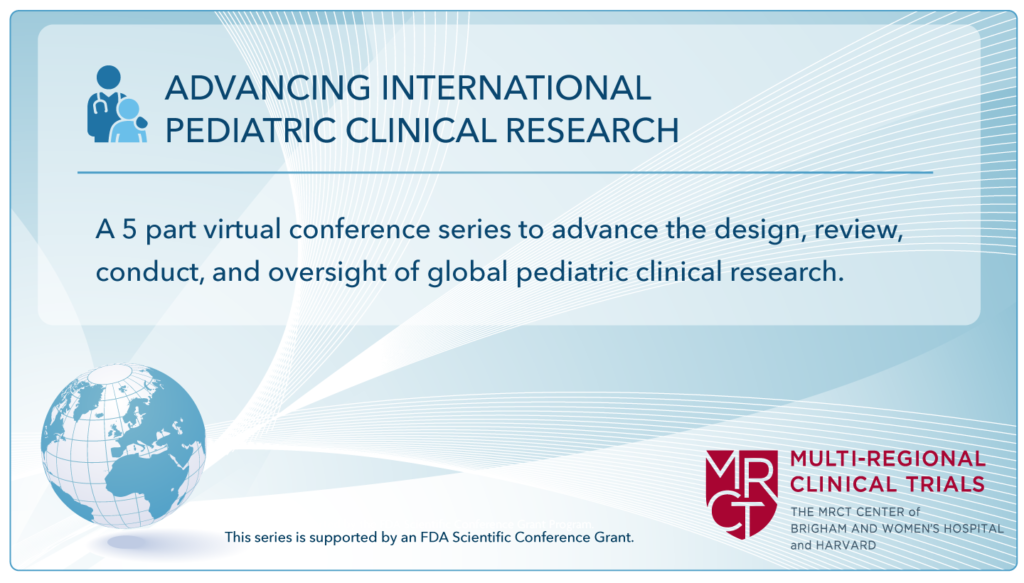 JOIN US!
The MRCT Center is delighted to announce a 5 part virtual conference series to advance the design, review, oversight, and conduct of global pediatric clinical trials. Ensuring all children have access to safe and effective medicines is contingent upon the conduct of trials that include them. For many pediatric conditions, disease incidence is low and the pool of potential participants small; conducting multisite and multinational pediatric studies is necessary to secure sufficient enrollment for completion. Given the dearth of relevant data and the challenges of working across jurisdictions, harmonized approaches for pediatric research are necessary.
To ensure wide global relevance and participation, each conference will be offered twice to better accommodate individuals across international time zones, each with the same general agenda but different speakers to hear a variety of opinions.
This conference series is supported by the Food and Drug Administration (FDA) of the U.S. Department of Health and Human Services (HHS) as part of a financial assistance award. The contents are those of the author(s) and do not necessarily represent the official views of, nor an endorsement, by FDA/HHS, or the U.S. Government.