We recognize the difficulty in getting started with returning individual research results (IRR) to participants. On this page we outline steps and provide recommendations for developing policies and processes for the dissemination of individual research results (IRR).
Steps covered on this page:
Learning through experience
Developing a plan for returning IRR is often an iterative process. Build upon and improve what you already do.
Start simple, establish a process, and learn from the experience. Then pilot or implement the return of additional data types to further refine the process.
The goal is a robust program of returning results throughout an organization, a goal which will take time to achieve.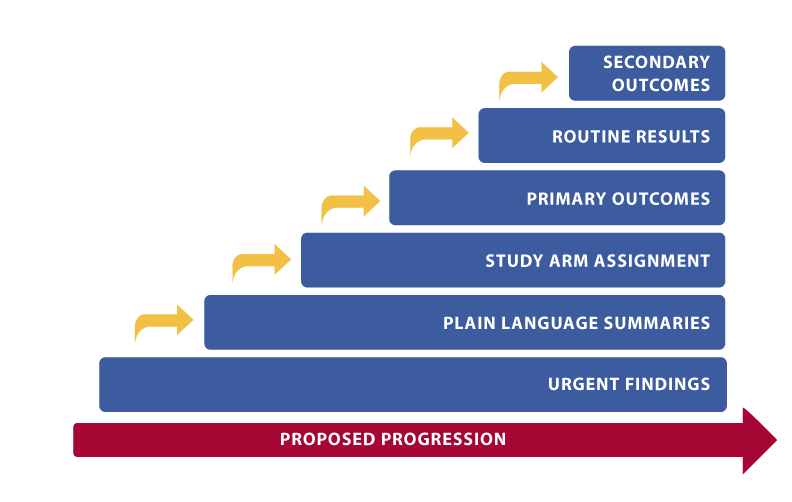 Proposed progression of return
Urgent results (during study)
Plain language summaries (after study)
Study arm assignment (after study)
Primary endpoints (after study)
Routine results (after and/or during study)
Secondary endpoints (after study)
A pilot can effectively provide a proof of concept, experience with processes and workflow, identification of problems and their correction, and confidence in returning IRR. Any pilot provides an opportunity for learning and every organization will have different approaches and challenges. Consider:
What approvals are needed and by whom
Which groups to involve

Start small, balancing simplicity, flexibility, and forward progress
Plan for iterative feedback and process for correction
Plan the next pilot based on challenges or success of the first
Early proof of principle is important for building momentum

The study team will determine what data will or can be returned, when they will be returned, how they will be returned, and by whom
Remember, simplicity is important. You will learn what works and what needs to be re-engineered. More robust tools (e.g., online portals for secure, scalable solutions) can be built in time
Who to involve in planning for return
Implementing the return of IRR will require buy-in from multiple groups. The degree to which the return of IRR is being proposed (e.g., a small pilot vs. an organizational policy) will also impact necessary buy-in.
It is important to identify the necessary reviews and approvals that are needed before the return of IRR is initiated. Working in partnership early will ensure that concerns and needs are addressed and contribute to success. It may be especially helpful to identify a "champion" within each group. Of course, the specific groups will vary by organization and role (e.g., industry vs. research site vs. investigator) as will the nature of the issues. Consider:
Groups to Engage:
Study Team & Investigator
General Counsel (legal)
Privacy Office
IT/Data management
Human Research Protection Program Office/Institutional Review Board (IRB)
Ethics board or Bioethics Council
Regulatory Affairs/Country Experts
Clinical Operations
External vendors
Biorepository
Patient and Family Advisory Board
Community representation
Potential Issues to Address:
Regulatory compliance (local, state, country)
Identifying any necessary expertise relating to the results that will be generated/returned
Methods for returning individual research results
When getting started, key decisions will need to be made around how to operationalize the return of IRR. These methods may change over time as programs and technologies evolve. When deciding which methods to use, consider the nature of your results and the resources of your organization.
Key decisions to make:
Depending on what you decide to return, each data type will have additional specific considerations. Learn more about returning results that are:
In time, the organization will determine whether and how to scale the practice of returning individual results to participants. It is helpful to develop standard operating procedures that can be changed as necessary whenever experience suggests adaptation would be helpful. Organizational guidance has the advantage of being a reference document without suggesting a mandate or requirement.  At some point, however, it will be helpful to have an organizational policy. We include a model policy as an example and starting point, anticipating that every organization will adapt the model to its specific situation (link, when it exists).
SOPs, guidance, and policies can be developed over time. While SOPs will address the "who, when, how, and what" of returning results, it is also helpful to address anticipated complex situations such as participant data requests that are outside the scope of what was intended to be returned, incidental findings that are medically actionable and must be returned, and healthcare provider or family member requests for information. The availability of guidance will result in greater efficiency, less opportunity for error and liability, and an improved participant experience.
In general, the SOPs, guidance, and policy should address:
How to approach planning for data return during protocol development

Identifying all data and types of results that will be generated during the study
Of those data, deciding which to return. Organizations may have different approaches to categorizing data to be returned.
Deciding and planning for who will return the data and in what timeframe
Ensuring necessary funding is available to implement the data return
Study-specific documentation required

Steps/processes to follow to return those data

Timelines and process flows to follow
Communicating with sites and/or vendors about their role
Communicating with IRB/HRPP/Ethics board about their review requirements and their criteria for returning IRR
Communicating with IRB, regulatory, and/or legal to understand country specific requirements
Consultation with content experts for more complex data return (e.g. genetic counselors and/or those with genomic research expertise)
All internal sign-off needed for feasibility and compliance
ICF prototype language
Consultation with health literacy experts or others who can aid in ensuring results will be understood by participants

The team should be alert to additional issues that arise during and after a pilot or program expansion, and annotate the SOPs and guidance as appropriate