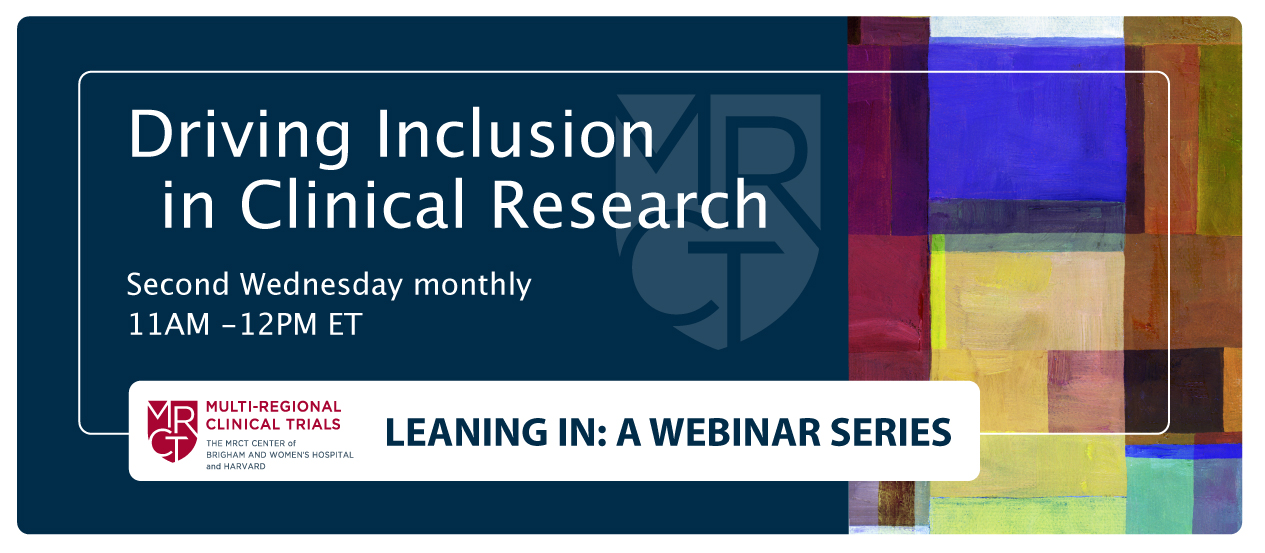 PLEASE JOIN US!
We are happy to announce a new series of MRCT Center Leaning In Webinars: Driving Inclusion in Clinical Research.  This series will focus on how to approach and plan for inclusion, implement recommendations, and sustain progress. The sessions will introduce tools, resources, and will feature speakers who will share their experiences and recommendations for how to improve diversity and inclusion in clinical research.  
Please note, the MRCT Center Leaning In Webinar Series: Practical Approaches to Improving Diversity in Clinical Trials was held October 2020 through February 2021 and focused on topics and recommendations addressed in the MRCT Center's "Achieving Diversity, Inclusion, and Equity in Clinical Research" Guidance Document and Toolkit.  Check out webinar recordings and slides available from this series.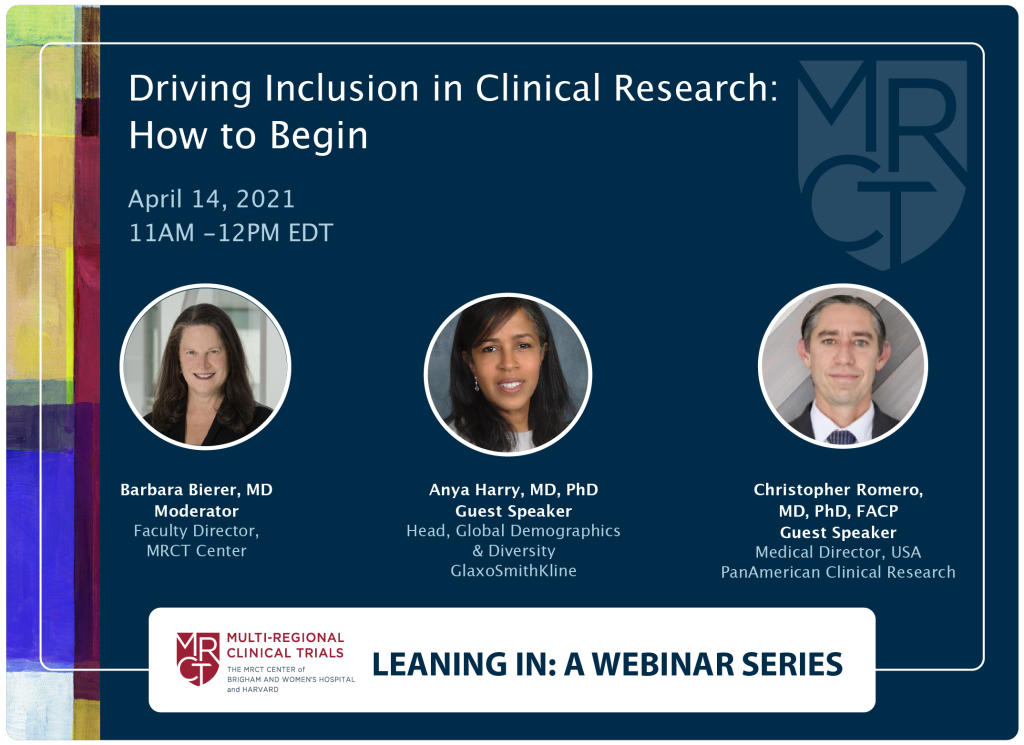 We are pleased to invite you to join the next round of the MRCT Center Leaning In Webinar series: Driving Inclusion in Clinical Research. The first session of the series, titled How to Begin, will be Wednesday, April 14, 2021 from 11am – 12pm EDT.
Our moderator will be MRCT Center Faculty Director, Barbara Bierer, MD. Our guest speakers will be Anya Harry, MD, PhD, Head, Global Demographics & Diversity at GlaxoSmithKline and Christopher Romero, MD, PhD, FACP, Medical Director, USA, at PanAmerican Clinical Research.
The inclusion of diverse populations in clinical research requires steady commitment and focus and is necessary to reduce disparities and inequity in health care. Further, inclusion in clinical research requires an integrated approach across the different stakeholders. It is often difficult to determine where and how to begin this process.
In this session of the MRCT Center's 'Leaning-in' Webinar Series, speakers will discuss:
How to plan, resource, and develop a program to address diversity and inclusion in clinical research
Strategies of and with leadership to commit to and set expectations for diversity initiatives
Examples and experiences of organizations that are building and maintaining momentum toward inclusion in clinical research