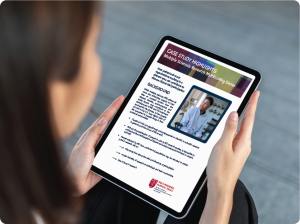 The MRCT Center has worked with stakeholders to develop case studies that illustrate (1) efforts for diversity, equity, and inclusion that have been successfully integrated into the clinical research enterprise, and (2) examples of therapeutic response differences that warrant investigation.
There are two types of case studies offered on this page: programmatic and therapeutic.
The programmatic case studies illustrate different organizational approaches to improve diversity in clinical trials, promote equity within their workplaces, build relationships with communities, and more.
The therapeutic case studies offer examples of differential treatment responses based on race, ethnicity, ancestry, and/or genetic variability.
The case highlights offer a case overview focusing on key takeaways while the full case studies provide further detail, explanation, and examples.
Case studies and examples included on this page are not intended to represent the position of or imply endorsement by the MRCT Center, Brigham and Women's Hospital, Mass General Brigham, or Harvard University. Reciprocally, entities and companies mentioned in the case studies and examples do not necessarily endorse the work products of the MRCT Center.
Programmatic Case Studies
Achieving and Exceeding Clinical Trial Participant Diversity Targets
How Merck increased clinical trial diversity using Customized Tools, Applications, and a Dynamic Enrollment Tracker
All of Us Research Program
How a large, unprecedented national study ensured over 80% enrollment of historically underrepresented participants
Data-driven Diversity Assessments at a Medical Device Company
How Boston Scientific utilizes data to systematically prioritize racial and ethnic diversity in cardiovascular treatment and clinical trials
Diverse Patient Engagement at a Pharmaceutical Company
Sanofi Genzyme's approach to involve patients in clinical trial development
Diverse Recruitment at Yale Center for Clinical Investigation
Yale School of Medicine's integrative approach to recruit a diverse patient population for research
Embedding Diversity & Inclusion within a Pharmaceutical Company
How Biogen included Diversity & Inclusion within and across the organization's culture and strategy
Multiple Sclerosis Research Mythbusting Series
How Accelerated Cure Project (ACP) and the Multiple Sclerosis Association of America (MSAA) collaborated to further diverse clinical trial participation
How genetic differences may contribute to different efficacies in treatment response
How differences in treatment response between different racial or ethnic subgroups can lead to important observations in drug discovery and development
How diverse participation in clinical trials can reveal differing safety profiles of a treatment
How racial and ethnic diversity identified important genetic variants that aided drug discovery and development